Ficus Benjamina
Ficus Benjamina –
Ficus Benjamina or weeping fig or Ficus tree a native to Asia and Australia are most common plant in many homes, office and landscape gardens. It can reach up to 25'-30' height. Ficus Benjamina has gained popularity mainly due to their typical tree look with single trunk and gracefully spreading and drooping canopy. Their leaves can be either green or variegated. Ficus Benjamina's can maintain its tree like shape regardless of their size. This tree is ideal for bonsai too.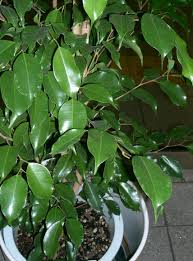 Ficus trees all varieties enjoy bright indirect light or to say medium light. Bright direct bright or direct light may result in blistering of leaves and leaf loss and at the same time they cannot also tolerate cold temperature.
Ficus are fast growing plants and they should always be kept moist but do not over water. As they are rapid growers they ask for plenty or nutrients to grow well, at least once in 45 days. Under water or over water, too little light, relocating now and then is the main cause of drooping of leaves in Ficus and this leads to weakening of plants and in turn pests attack. Leaves are the main attraction of a Ficus and they can inform you about the health of the plant.
Removing old leaves and pruning them (If you have it indoors) once a while makes them bushy. Pruning to be done after summer. Fruits are fairly small.
Ficus Benjamina can be grown indoor, outdoor as Bonsai, Hedges, Screening tree/Plant or as a specimen tree. You can also prune them and give them a beautiful shape.
Propagation is through cuttings.
If you keep them always moist, feed them properly and keep them undisturbed they can grow healthy and happily in your homes and gardens for years.
 happy gardening………………