Sanchezia Speciosa
Sanchezia Speciosa –
Sanchezia speciosa, or the shrubby white vein, is a tropical bushy shrub known for its large handsome foliage .Leaves are bright green with prominent yellow, ivory, or white veins/midribs, since the name white vein. Native to Ecuador and Peru sanchezia makes a beautiful background for the showy yellow flowers that are present most of the year.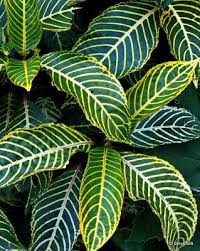 Sanchezia can grow up to 8 feet if unchecked. This semi woody evergreen shrub likes moist well drained soil. Grows better in humid conditions. If nourished well leaves can grow up to a foot in length.
Sanchezia likes partial sunlight and this indirect light helps them to develop its unique foliage. They require high moisture in soil and should never be allowed to dry out but, do not water log your plants. For a good show they need humus rich/organic matter rich soil.
Sanchezia are widely grown as ornamental plants. AllSanchezias are tropicals. S. speciosa is one of several species. Sanchezia are known for their showy leaves and foliage. There are variegated varieties too.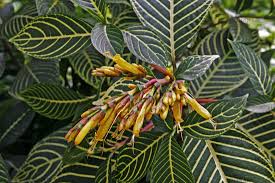 These annuals can be fertilized during the growing season with slow releasing balanced fertilizers. For this you can use any organic manure.
Sanchezia can be used as shrub borders or hedges for its foliage and flowers. They can be grown as a specimen plant and can also be potted. They enjoy occasional misting.
Sanchezia can be propagated through cuttings. Be careful of scale insects and mites.
For a perfect balanced diet to your garden use JEEVAH https://www.gardendiary.info/2016/02/22/bio-organic-fertilizer/
happy gardening…………………………………………